Welcome my pretties! I have something special for you today :)
As you have likely observed, this past week has been HARE week. I have posted a HARE swatch every day, and now I am cherry topping it with an interview with the mastermind behind the beauties and a preview of her upcoming collection.
***
This question is a standard question that I ask essentially everyone when there is a question to be questioned. My answer is - fresh cut grass, the smell of zesting a lemon, gasoline and any food when I am hungry.
1. What is your favourite smell?
Cupcakes, hands down. Coffee. Freshly cut lumber. I also love the smell of an oil I have called "Blue Nile," it reminds me of my mom.
2. Why HARE? How did you come up with the name?
I actually made the bunny shape labels before I even imagined I would need to name my frankens! I was using them for fun, but then when I started giving them out and then eventually selling, the line needed a name. So we just played off of the label and called it "HARE polish." It was literally like "Hmmm, I still really like bunnies." And my boyfriend said, "Okay. What about HARE?"… "YES okay!"
3. Do you get many people emailing you with suggestions or requests? Are you open to that?
I actually don't get too many special requests, except for from my friends and family. I've made a few polishes for friends or my mom based on a color theme they had in mind or a certain effect they were going for. I do like the process of bouncing ideas off of someone to get exactly what they are looking for, it's not the way I usually work. I usually learn something or come away with new ideas. I would say that I'm definitely open to special requests, though I don't always have the time for them!
4. How many people are behind the scenes?
HARE polish is: me, Nikole- color obsessed lacquer experimenter, glitter hoarder and chicken running around without a head trying to keep everything in order … Jonathan- the official polish namer, labeler, and sometimes-shipping-assistant, he is also my savior when his cat eats through a pound of green micro glitter (has happened more than once!) … and Ingrid the dog, my best friend!
Intermission
HARE polish - To Be Disclosed (not the actual name which is.. to be disclosed)
This is 1 coat over black + SV. I have taken all of the other HARE pics thus far indoors with the flash because I was taking a picture each day and have no working daylight during the week. This one includes some outdoor shots because you can better see the GORGEOUSNESS.
This first pic is indoors with flash which totally floods out the lovely.
As I said previously, this is one coat over black. In it's true form it is a blackened jelly base which builds up to look essentially like this, but more deep and squishy. I did take pictures of it when I wore it before 3 coats on its own, but it was indoors with flash and the pictures were bunk. Sorry but this is what you get because I wanted to see what it looked like over black.. which is to say AMAZING.
*cough* back to the interview
5. Do you have a special baby you love the most out of all your creations?
I am super excited about the new collection that I am putting the finishing touches on! They are all my special babies. All 6 of them are colors I know I would purchase and love, and I'm so excited to share them with everyone. The way the glitter swims in these really makes me happy.
6. I also wanted to ask what your creative process was. Do you think of the base colour first, do you get a glitter and then get inspired or do you like hear a song or see a flower or video game or something that inspires you?
I am inspired by everything. It comes from everywhere. Things like candy wrappers, jelly beans, my shower curtain, television series, movies, or the shampoo aisle at Target. I keep a notepad type system on my phone for color combo ideas and I'm constantly adding to it! I am always inspired by the different shapes and sizes of glitter that are out there. I also often have some "happy accidents" that turn out to be something different than I had originally intended but also way better. I have been known to become inspired just after shutting off the lights and climbing into bed at 3am, so I have to hop up and turn the light back on and sit down at my desk to mix.
7. Pick a colour mebbe and explain what the inspiration behind it was?
I mentioned my shower curtain and I was serious about that! It inspired one of my new ones. Here's a photo of said shower curtain:
Haha! Sometimes it really is that simple.
Thanks for the interview, Reece! I will be releasing more info about the new collection in the near future at my blog,
nailingit.tumblr.com
.
HARE polish can be purchased from
Nikole's etsy shop
which is currently closed, but stay tuned to her blog for deets on when it will be reopening!
Without further adieu.. BOTTLE SHOTS FOR SALIVATION PURPOSES!
(These pictures were provided to me)
I am not shrinking this photo any further even though it runs into that text over there.. *shakes fist*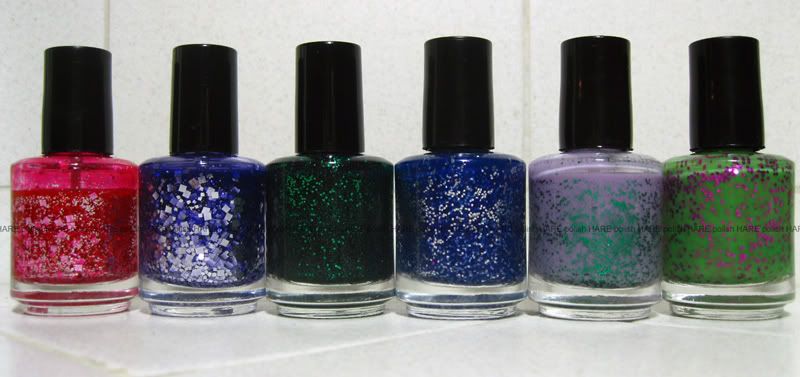 SQUAREZ!!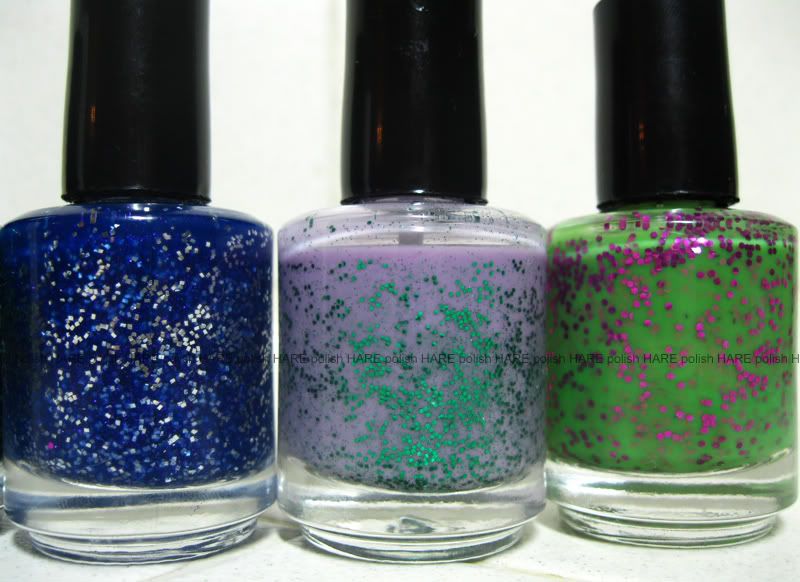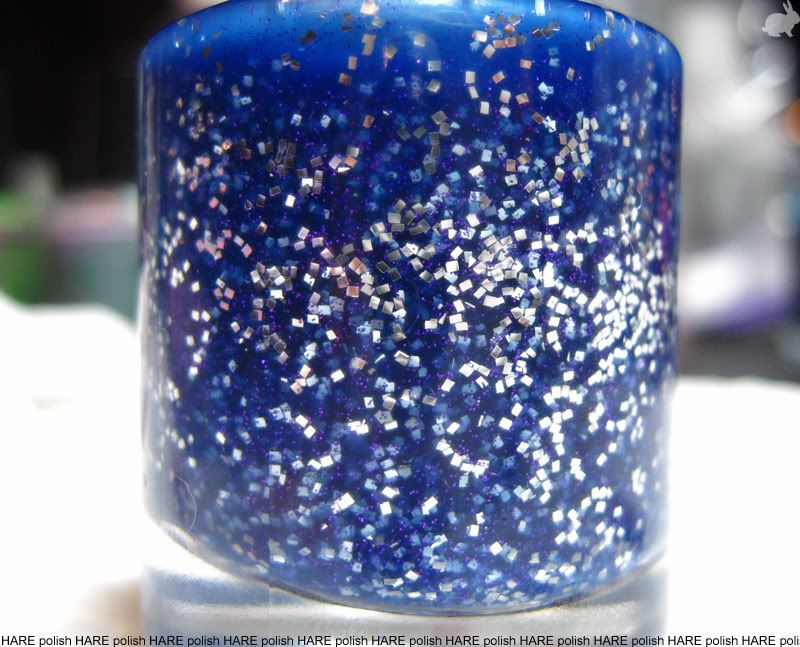 (I'm dead by this point)
*clutches chest*